Ricky Stenhouse Jr took his second NASCAR Cup race victory in a heavily disrupted event at Daytona.
This victory means that both of Stenhouse's Cup victories have come in restrictor plate races, following the Roush Fenway Racing driver's Talladega win in May.
There was a late sprint for the chequered flag following a red flag stoppage, then three overtime laps after a subsequent yellow.
In the overtime period Stenhouse took the lead from David Ragan, who sunk to sixth before the end.
Stewart-Haas Racing's Clint Bowyer finished second while Richard Childress Racing driver Paul Menard came home third.
The race featured several crashes and many tyre failures throughout the field. There was a record 14 caution periods in addition to the red flag.
The stoppage came about due to a crash involving points leader Kyle Larson with seven scheduled laps remaining.
Larson had risen to challenge for victory in the late laps but crashed out after contact with Stenhouse; Larson's Ganassi machine was briefly airborne and in total eight cars were involved.
Poleman and Daytona specialist Dale Earnhardt Jr, in possibly his last race at this track, had a frustrating night.
He lost two laps just after the start of stage two, when he nudged the wall and sustained right-hand side damage.
The Hendrick Motorsports driver later got back onto the lead laps thanks to yellows, but then was forced out when caught up in a multi-car accident triggered by Kevin Harvick spinning with a blown tyre.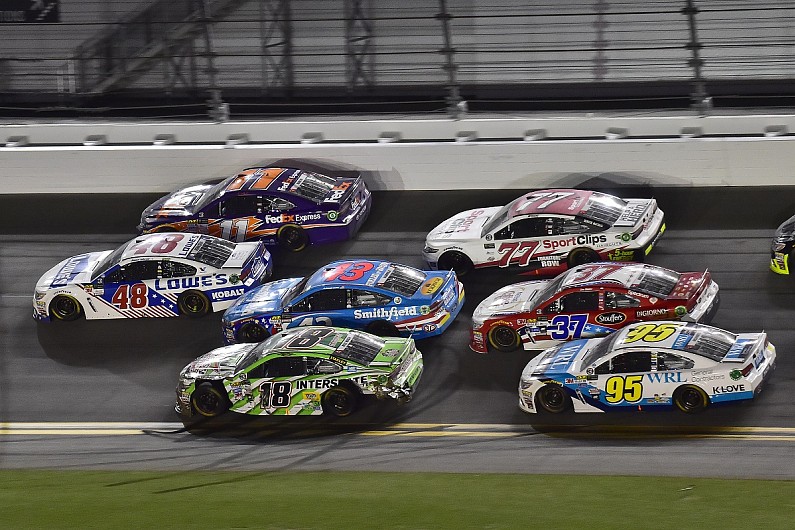 Penske's Brad Keselowski was also involved in the mess, and he later crashed out on his own after another tyre failure.
Harvick's crash was the second pile-up of the race. A spin for Kyle Busch just before half distance, after his left rear tyre rubbed on the bodywork, resulted in a smash involving 11 cars.
Joey Logano, Martin Truex Jr and Austin Dillon were forced to retire while Busch and others sustained damage.
Logano therefore still awaits his first Cup win this season that would qualify him for the Chase, following his 'encumbered win' at Richmond.
Joe Gibbs Racing's Matt Kenseth won stage two after a tight battle with team-mate Denny Hamlin.
Kenseth was in the fight for the win for much of the way, but was caught up in the late crash involving Larson.
Keselowski led much of the opening stage and took the stage one points, repelling a late attack from Earnhardt.
RESULTS – 163 LAPS:
| Pos | Driver | Team | Car | Gap |
| --- | --- | --- | --- | --- |
| 1 | Ricky Stenhouse Jr. | Roush Fenway Racing | Ford | 3h17m12.s |
| 2 | Clint Bowyer | Stewart-Haas Racing | Ford | 0.213s |
| 3 | Paul Menard | Richard Childress Racing | Chevrolet | 0.269s |
| 4 | Michael McDowell | Leavine Family Racing | Chevrolet | 0.379s |
| 5 | Ryan Newman | Richard Childress Racing | Chevrolet | 0.385s |
| 6 | David Ragan | Front Row Motorsports | Ford | 0.466s |
| 7 | Brendan Gaughan | Beard Motorsports | Chevrolet | 0.491s |
| 8 | A.J. Allmendinger | JTG Daugherty Racing | Chevrolet | 0.540s |
| 9 | Erik Jones | Furniture Row Racing | Toyota | 0.562s |
| 10 | Chris Buescher | JTG Daugherty Racing | Chevrolet | 0.681s |
| 11 | Corey LaJoie | BK Racing | Toyota | 0.735s |
| 12 | Jimmie Johnson | Hendrick Motorsports | Chevrolet | 0.760s |
| 13 | Matt DiBenedetto | Go FAS Racing | Ford | 0.963s |
| 14 | Jamie McMurray | Chip Ganassi Racing | Chevrolet | 1.013s |
| 15 | Darrell Wallace Jr. | Richard Petty Motorsports | Ford | 1.032s |
| 16 | Ty Dillon | Germain Racing | Chevrolet | 1.084s |
| 17 | Daniel Suarez | Joe Gibbs Racing | Toyota | 1.180s |
| 18 | Kasey Kahne | Hendrick Motorsports | Chevrolet | 1.193s |
| 19 | Landon Cassill | Front Row Motorsports | Ford | 1.199s |
| 20 | Kyle Busch | Joe Gibbs Racing | Toyota | 7.439s |
| 21 | Elliott Sadler | Tommy Baldwin Racing | Chevrolet | 21h42m48.s |
| 22 | Chase Elliott | Hendrick Motorsports | Chevrolet | 1 Lap |
| 23 | Trevor Bayne | Roush Fenway Racing | Ford | 3 Laps |
| 24 | Denny Hamlin | Joe Gibbs Racing | Toyota | Accident |
| 25 | Danica Patrick | Stewart-Haas Racing | Ford | Accident |
| 26 | Ryan Blaney | Wood Brothers Racing | Ford | Accident |
| 27 | Matt Kenseth | Joe Gibbs Racing | Toyota | Accident |
| 28 | Kurt Busch | Stewart-Haas Racing | Ford | Accident |
| 29 | Kyle Larson | Chip Ganassi Racing | Chevrolet | Accident |
| 30 | Reed Sorenson | Premium Motorsports | Toyota | 16 Laps |
| 31 | Brad Keselowski | Team Penske | Ford | Accident |
| 32 | Dale Earnhardt Jr. | Hendrick Motorsports | Chevrolet | Accident |
| 33 | Kevin Harvick | Stewart-Haas Racing | Ford | Accident |
| 34 | Martin Truex Jr. | Furniture Row Racing | Toyota | Accident |
| 35 | Joey Logano | Team Penske | Ford | Accident |
| 36 | Austin Dillon | Richard Childress Racing | Chevrolet | Accident |
| 37 | Jeffrey Earnhardt | Circle Sport / TMG | Chevrolet | Engine |
| 38 | D.J. Kennington | Premium Motorsports | Toyota | Engine |
| 39 | Cole Whitt | TriStar Motorsports | Chevrolet | Engine |
| 40 | Ryan Sieg | BK Racing | Toyota | Engine |
CHAMPIONSHIP STANDINGS:
| Pos | Driver | Points |
| --- | --- | --- |
| 1 | Kyle Larson | 667 |
| 2 | Martin Truex Jr. | 649 |
| 3 | Kyle Busch | 559 |
| 4 | Kevin Harvick | 557 |
| 5 | Brad Keselowski | 535 |
| 6 | Chase Elliott | 524 |
| 7 | Jimmie Johnson | 516 |
| 8 | Jamie McMurray | 504 |
| 9 | Denny Hamlin | 498 |
| 10 | Clint Bowyer | 469 |
| 11 | Matt Kenseth | 445 |
| 12 | Joey Logano | 442 |
| 13 | Ryan Blaney | 435 |
| 14 | Kurt Busch | 408 |
| 15 | Ryan Newman | 399 |
| 16 | Ricky Stenhouse Jr. | 395 |
| 17 | Erik Jones | 386 |
| 18 | Daniel Suarez | 354 |
| 19 | Trevor Bayne | 351 |
| 20 | Kasey Kahne | 328 |
| 21 | Austin Dillon | 323 |
| 22 | Dale Earnhardt Jr. | 307 |
| 23 | Ty Dillon | 297 |
| 24 | Paul Menard | 293 |
| 25 | Michael McDowell | 261 |
| 26 | Chris Buescher | 250 |
| 27 | A.J. Allmendinger | 242 |
| 28 | David Ragan | 229 |
| 29 | Danica Patrick | 208 |
| 30 | Aric Almirola | 188 |
| 31 | Matt DiBenedetto | 184 |
| 32 | Cole Whitt | 184 |
| 33 | Landon Cassill | 178 |
| 34 | Corey LaJoie | 124 |
| 35 | Gray Gaulding | 82 |
| 36 | Reed Sorenson | 79 |
| 37 | Jeffrey Earnhardt | 66 |
| 38 | Michael Waltrip | 29 |
| 39 | Derrike Cope | 26 |
| 40 | Billy Johnson | 15 |
| 41 | Boris Said | 8 |
| 42 | Alon Day | 5 |
| 43 | Kevin O'Connell | 4 |
| 44 | Cody Ware | 4 |
| 45 | Tommy Regan | 3 |
| 46 | D.J. Kennington | 2 |
| 47 | Brendan Gaughan | 0 |
| 48 | Darrell Wallace Jr. | 0 |
| 49 | Elliott Sadler | 0 |
| 50 | Ross Chastain | 0 |
| 51 | Joey Gase | 0 |
| 52 | Regan Smith | 0 |
| 53 | J.J. Yeley | 0 |
| 54 | Ryan Sieg | 0 |
| 55 | Timmy Hill | 0 |
| 56 | Carl Long | 0 |
| 57 | Josh Bilicki | 0 |