Hendrick Motorsports has chosen teenage protege William Byron to replace Kasey Kahne in its 2018 NASCAR Cup line-up.
Autosport has learned that the 19-year-old will be promoted from the Xfinity Series to join Jimmie Johnson, Chase Elliott and Alex Bowman at Hendrick next season, with an official announcement of the move expected by next week.
Hendrick revealed on Monday that it was releasing Kahne with a year left on his contract.
Earnhardt: NASCAR veterans have been overpaid
Rick Hendrick's team signed Byron to a long-term deal last season, when he was in the middle of a Truck series campaign with Kyle Busch Motorsports that featured a rookie record of seven race wins.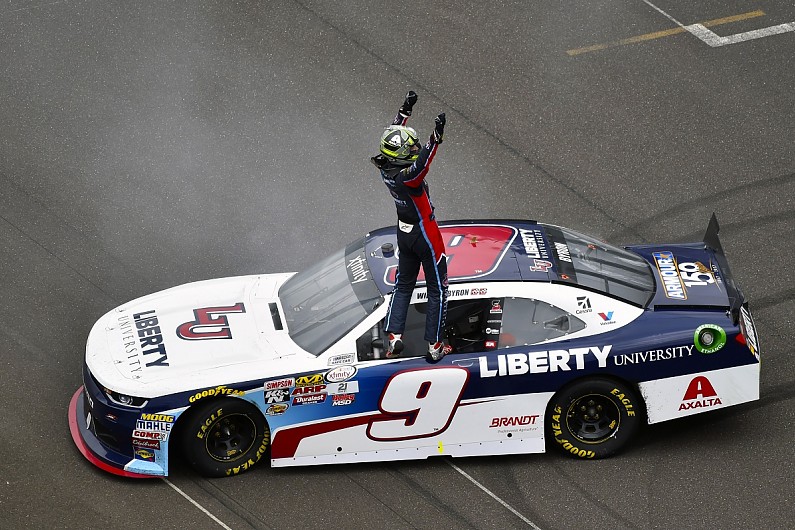 "William is a special person and a special talent," Hendrick said at the time.
"On top of all his ability, he's a terrific young man from a great family, and we think he has a very bright future with our organisation."
Byron is currently second in the Xfinity Series, where he races for Dale Earnhardt Jr's JR Motorsports team.
His deal completes a significant move towards youth in Hendrick's Cup line-up.
The team has already picked its 24-year-old test driver Bowman as the retiring Earnhardt's replacement for 2018, while it chose Elliott – now 21 – when four-time champion Jeff Gordon stepped down from full-time driving at the end of the '15 season.