Citroen driver Kris Meeke will have to wait until the start of September before his participation in the World Rally Championship's Rally Catalunya round is confirmed.
Meeke broke the suspension on his C3 WRC on last Thursday night's opening spectator stage of Rally Germany in Saarbrucken.
He returned under Rally2 rules and was forced to start day one proper with a 10-minute penalty, before retiring for good on Saturday afternoon with a cooling problem.
Citroen benched the Northern Irishman for Rally Poland at the end of June and he has subsequently struggled to replicate the form that helped him win Rally Mexico and dominate in Corsica earlier in the season.
Team principal Yves Matton told Autosport Meeke was not confirmed for October's Rally Catalunya, but that the Briton's early exit in Germany would not affect his selection chances.
"We don't tell who will be in Spain," said Matton, who also said Meeke had a contract for 2018. "The only driver we confirm will be Stephane [Lefebvre].
"But this is not different from what we say before the rally. I don't say he [Meeke] won't be there.
"Before the start of this rally we decide to take the time to nominate our drivers until September 5 – what has happened here does not change that."
Matton added he felt a degree of sympathy for his driver, given the narrow nature of the stage that caught him out in the Saarbrucken city centre.
"Kris said himself he made a stupid mistakes," said Matton, "but I have to say it was a stupid stage.
"We can see how narrow this stage is when you need a narrow R5 car to be fastest [Jan Kopecky won the test in a Skoda Fabia R5].
"I'm much more frustrated that this mistake didn't allow him to do his proper rally.
"When you come in tricky conditions, it's difficult to have the motivation and to take the risk when you know it will bring you nothing."
Matton said the final decision on Meeke's future would lie with "top management", which Autosport understands to be PSA Peugeot Citroen CEO Carlos Tavares.
Mikkelsen deal still one round at a time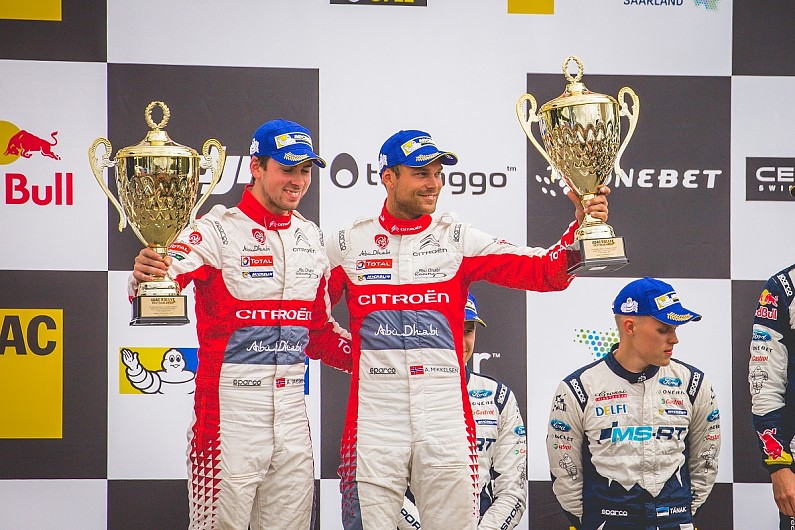 Andreas Mikkelsen finished second in Germany on his third outing with Citroen, which he hopes will be enough to keep him in a World Rally Car for the rest of 2017.
But Mikkelsen's management team insists Citroen is not the Norwegian's only option, and hinted that outings with Toyota and Hyundai remain a possibility.
Matton said Citroen would continue its rally-by-rally approach with Mikkelsen.
Sebastien Loeb remains a rank outsider for a WRC return, although Matton reiterated his desire to see the nine-time champion test a C3 WRC on gravel.
"It's quite difficult to find a date for a gravel test," said Matton.
"His feedback on asphalt was interesting and we'd like the same from him on gravel.
"Will he come back? We cannot answer that question after one day of testing where there was no comparison with another driver."