Nakajima Honda's Bertrand Baguette and Kosuke Matsuura won the Suzuka 1000km, while 2009 Formula 1 world champion Jenson Button finished 12th after a fraught Super GT debut.
Troubles for Button's #16 Mugen Honda team began when he was released into the path of the #7 BMW as he took the wheel at the first round of pitstops, with the consequent drive-through penalty dropping his car from third to 12th.
Another penalty followed when Button overtook under the safety car, while two separate tyre punctures added to the misery.
Button and his team-mates Daisuke Nakajima and Hideki Mutoh eventually crossed the line in 12th position, only ahead of the #46 Mola Nissan, which had spent several laps in the garage after a crash in the first hour.
At the front, the #17 Real Racing Honda passed the polesitting #24 Kondo Racing Nissan just before 130R in the first hour and then dominated much of the race.
But the penultimate round of pitstops changed the race's complexion, as the #64 Nakajima squad leapfrogged the sister Honda.
Despite a spin in the final hour that cost it 10 seconds, the Satoru Nakajima-run team was able to take the chequered flag and score Honda's first Suzuka 1000km win since 2013.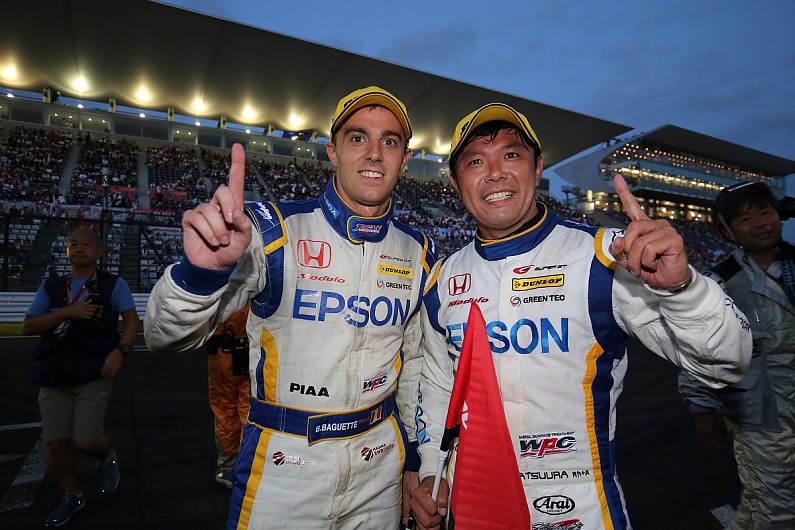 Real Racing looked set to make it a one-two finish for Honda until a spectacular tyre failure left it in the barriers at Spoon.
Real's retirement propelled the #23 Nismo duo of Tsugio Matsuda and Ronnie Quintarelli into second, the factory-backed Nissan outfit staging a remarkable recovery from a drive-through penalty that dropped it outside the top 10.
The #100 Team Kunimitsu Honda completed the podium spots after Super Formula champion Naoki Yamamoto, who shared the car with Takuya Izawa, passed the #1 SARD Lexus in the final 10 minutes.
The defending champions were dealt a major blow moments later when Kohei Hirate (team-mate to Heikki Kovalainen) crashed at Degner.
WedsSport Bandoh finished as the top Lexus squad in fourth, with Yuhi Sekiguchi, Yuji Kunimoto and Kamui Kobayashi behind the wheel.
Daiki Sasaki and JP de Oliveira finished fifth in the #24 Kondo Racing Nissan, while the #37 TOM'S crew of Ryo Hirakawa and Nick Cassidy came home sixth.
Mercedes steals GT300 victory from Toyota
In the GT300 class, the #64 Leon Racing Mercedes's Naoya Gamou and Haruki Kurosawa snatched victory from the #25 VicaC Toyota in the final 30 minutes of the race.
The VivaC outfit not only lost the win, but also failed to finish the race after a crash left the Toyota upside down with four remaining.